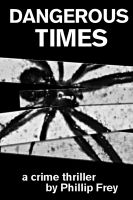 Unfortunately I have to start off by telling you I started to read the e-book Dangerous Times by Phillip Frey, but just couldn't finish. This was due to the confusing nature of how the book is set up and written. Smashwords.com gives the book this description: "Dangerous Times is a multicultural crime-thriller with strong women characters, dark humor, and the pull of the unpredictable. This book is not for the squeamish. It begins as a creepy slow burner that leads to betrayal, sex, violence and murder."
Now I truly hate having to go to another source to let you, our readers, know about a book or product but unfortunately in this case I had no other choice. I have genuinely tried to read this book a few times now and have made a valiant effort to do so. I am just so confused by who these characters are even when they are talking in the story line. Too many characters are introduced in a very short amount of time, each with their own story line and as I hope that they connect in some way they haven't seemed to even a decent amount into the book. I feel unsettled having to put a book down, especially when the synopsis sounded so intriguing.
Available to Purchase/Cost: $2.99 Dangerous Times http://www.smashwords.com/books/view/25453
Recommendation: I wish I could recommend this book, but as seeing as I couldn't finish the book out of pure frustration in reading it, I don't recommend it to anyone else.
I received one or more of the products mentioned above for free using
Tomoson.com
. Regardless, I only recommend products or services I use personally and believe will be good for my readers. *Read my
Disclosure