Usually by now I've started preparing seedlings for my summer gardening, however things have been a bit different this year. This polar vortex has destroyed any thought of getting started early gardening here in Michigan! The weather has just been too unpredictable and with packing to move we have been afraid to plant too much early on thus adding to our load. Still, that doesn't change the fact that I need to get started for this Summer's crops.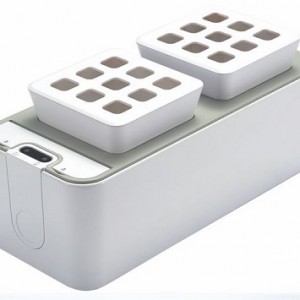 I love growing huge gardens full of some really great fruit and vegetables. Its my way of ensuring I can provide for my family not only during the summer months but through the winter as well! It has always interested me to discover different ways to start and grow the same beautiful plants indoors. With moving to a large property in the country, I have big plans for the edibles this year!
A while back an awesome gadget caught my eye and I just had to have one. The ZeroSoil Mini Indoor Garden is "the latest in smart water control technology and advanced self-watering planter and hydroponic techniques." For growers of all levels, this is going to work in whichever way you may need. If you don't have a green thumb but would love even the smallest house plant, this will help you get yourself started!
Using a nutrient rich organic soil-less planting mix, this garden helps make it easy to add seeds or bulbs of any kind. This awesome gadget monitors your plants water level using low battery and low water indicators. This way if you are inexperienced with plant life, you don't have to worry about over watering or knowing how much fertilizer to add. You can easily have a tabletop garden others are jealous of.
Each ZeroSoil Mini Indoor Garden starter kit includes everything you need - Basin body, Water control system, Flower pot (x2), Planter covers (x2), Nutrient rich organic grow medium (x2 8 oz bags), and AAA batteries (x2). Once it arrives there is very little set up and little to no maintenance. Every once in a while the indicators will let you know when you need to refill the water reservoir or change the batteries. Once your plant is grown all you need to do then is replant and start a new plant!
Honestly one of my favorite things about this is that I don't have to worry about dirt! My cat just loves to get into the dirt of my potted indoor plants so this is a major plus for me! I feel like this worked extremely well especially for my hard to grow lettuce seeds as you can see from the pictures.
Cost/Available to purchase: $49.95 Sale ($69.95 Reg)
ZeroSoil Mini Indoor Garden
Recommendation: You know this is a bit expensive for a garden gadget this small but definitely not when it comes to quality. I don't think the purchase price is all that outrageous for all that it does plus once you have the system the replacement growing medium is only $5!
Facebook:
ZeroSoil
Giveaway: ZeroSoil is going to give one of A Lucky Ladybug's very lucky readers a ZeroSoil Mini Indoor Garden of their own! Starting 4/22 for Earth Day!
Disclosure