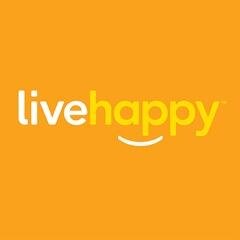 I have to say I am super glad that I ended up being late on this next review because it couldn't have come at a better time or feel more appropriate than now. I am a big believer in the theory that, "Everything happens for a reason" and especially Karma. As luck would have it, I spent a great deal of time this morning discussing treating others how you would like to be treated. It is one of the most basic rules of living a satisfying life in my eyes.
So being that I was asked to check out the new Live Happy Magazine, I feel as if right away there were lessons I could both learn from and share with all my readers. I am not a huge religious person by any means because I know we all have different ideas what faith means as well as what is worthy of believing in to each of us. However, I know I am not alone in thinking that we as a human race have lost our way over the decades.
We need to somehow be directed back to treating each other like actual humans as well as learning how to better value oneself internally. I used to live by the slogan, "What doesn't kill me only makes me stronger" but now I've determined (in my not so old age) that a better representation of my personality and values is, "Be the change you wish to see in the world".
I live my days being a "tree huggin hippie" no matter how many of my friends and family make fun of me. I teach my children to be who they want without fear of ridicule but with also the understanding of the normal standards. I have slowly removed those who cause me the most drama and not because I necessarily feel like they are the cause of it but that I don't feel my best around them either way.
So reading through the Live Happy Magazine, I feel as if there are tons of tips and tools and even little things that make you go hmmmm. There are different areas of focus such as Self, Relationships, Work, Lifestyle, and more. You can even join the movement if you feel compelled to. I love the Happiness Wall with the Acts of Happiness where you and I can share all about #HappyActs for our day!
I asked my readers to share
how they live happy
...head over and add your own or read the responses over time :)
You can't buy happiness:
Live Happy
Facebook:
Live Happy
Pinterest:
Live Happy
Twitter: @mylivehappy
*Read my
Disclosure