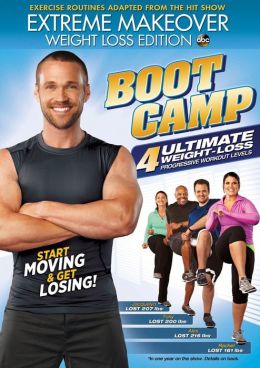 So I have always worked out either with a group or on my own. Recently, I have found it hard to get motivated to continue my workouts on my own. My fitness groups have all subsided into doing their own thing with their families, which I of course can't fault any of them for. It just seems I am having a hard time getting going again since having my second daughter which was honestly over two years ago.
Recently, I was asked to review Extreme Makeover: Weight Loss Edition - Bootcamp and I was ready to give it a shot! Anything to kick start my healthy living again is fine by me. This Fitness DVD features "transformation specialist Chris Powell from ABC's hit show Extreme Weight Loss".
The synopsis says, "Powell will help get you moving to start losing with a program for every body and fitness level. Featuring inspiring past participants from the popular TV show, the program includes four fat-blasting workouts, each more challenging than the last. Once viewers have mastered the levels individually, they can utilize boot camp workout plans to really take it up a notch!"
Warm-Up: Set your body in motion and get your heart pumping with Chris' signature moves designed to limber up for a fun workout.
Level 1: Begin your transformation and jump-start your metabolism with easy-to-follow exercises that get every muscle moving to start burning fat and calories.
Level 2: Rev up the calorie burn and melt inches with this low-impact interval workout that challenges the body with five total-body exercises repeated in 45-second bursts.
Level 3: Up the ante and the fat burn with a calorie-crushing workout that includes five mega moves that shred, sculpt and slim the body with four 20-second blasts each.
Level 4: Get extreme results with four-minute circuits of hard-core exercises like Mountain Climbers and Squat Jacks designed to torch calories, obliterate fat and sculpt muscles.
Cool Down: Calm your breathing and soothe challenged muscles with complete-body stretches and movements that protect and invigorate your body from head to toe.
Extreme Makeover: Weight Loss Edition - Bootcamp is really easy to follow along with and gives you an overall good workout. I felt it was just what I needed to start me back into my normal routine of working out and getting healthier again. A few of the moves I had to modify to accommodate for my prior injuries, but overall it felt good to workout and definitely gets you sweating.
Cost: $14.98
Recommendation: I really enjoyed it and am looking forward to doing it again tomorrow. I would say it was definitely worth the $15 and I was able to do this in the privacy of my own home (without supervision)!
*Read my
Disclosure