Disclosure: I got this product as part of an advertorial.
***Adult Content Regarding a Weapon***
Ok so I've never been a huge fan of keeping weapons of any sort in my home even before having children. Thankfully my husband has agreed with me throughout most of our marriage. After a few uncomfortable and somewhat dangerous situations we have experienced over the years as well as the whole idea of the apocalypse happening, we decided we should better educate ourselves.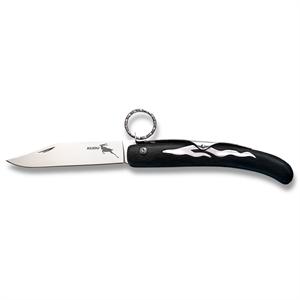 We started with taking several classes to get our CPL (concealed pistol license). This was quite the intimidating experience for me initially however I have slowly gotten over my fears and bad memories from my childhood. With this self revelation and having to watch my kids enter school where I have little or no control over them and what happens to them, we have quickly decided that we need to prepare both ourselves, our home, and our children in case of an emergency or disaster.
Over the last few years we've made plans, stockpiled a bit, invested in necessities, and taught our children several tools they would need to survive with or without us. So when Swords Of The East asked me to complete a review of their Kudo Knife, I knew it was something I wanted in my arsenal per say.
"Ours has a Krupp 4116 Stainless steel flat ground blade, heat treated to Rc 56-57 for better edge holding ability and ease of re-sharpening, and a thin razor sharp edge." The blade is 4 1/4" in length and the entire knife weighs only 2.4 ounces. "Made of 43% glass reinforced Zytel®", this knife is sure to hold up regardless of what you use it for.
I was yet again intimidated by having something like this around so Kevin was the first to experiment with the knife. He also has had more experience handling these over the years. He was a bit frustrated in the beginning as it opens and closes different than most pocket knives. With the pull tab locking mechanism in the back in order to get this to flip open you are not looking at quick access in an emergency. It does however prevent it from accidentally closing and makes for a sturdy and rigid open position.
Cost/Available to Purchase: $8.99
Kudo Knife
Recommendation: Very efficient company with lots of options for weapons and collectables. I was pretty surprised at the price of the knife as I expected it to be a lot more costly with its quality.
Facebook:
Swords of the East
I received one or more of the products mentioned above for free using
Tomoson.com
. Regardless, I only recommend products or services I use personally and believe will be good for my readers. *Read my
Disclosure