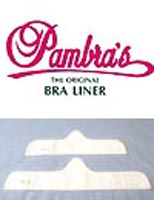 I have to say I have never been so excited to discover a product to review as I was about
Pambras
! Now if your not one for hearing the yucky details especially about women, please do not read along any further. This is a product obviously created by a woman who knew what she needed (and a lot of us others out there).
I have always been very naturally big busted and when I say always I mean I started out with "D" size tata's in the 6th grade. I have only increased from there. I prayed and prayed that with both my (breastfed) children they would shrink but never got my wish. In fact they have only continued to increase even more than I thought possible. I am now a size "I" which I honestly didn't even know existed! With the big hoohah's comes some really disgusting things in my opinion. I frequently find all sorts of surprises down there at the end of the day (ha ha). And these things swear profusely, my bra is usually soaked during the summer months! This also means with the combo of sweat and possible debris that you can get acne, heat rash, skin irritations, or even a yeast infection under your breasts. Not fun either way! Before discovering
Pambras
, I would shove a rolled washcloth under each tata to help with the sweat during workouts or long outdoor excursions.
Then, I discovered
Pambras
, the original breathable bra liner.
Pambras
are a soft cotton liner that absorbs moisture and adds padding to the uncomfortable under wire bras. The best part about
Pambras
is there are no pins, hooks, or tapes to keep these in place which we know usually doesn't work OR causes more irritation. They are available in Black, White, or Nude and from bra band size 34 to 50. They also make tummy liners, liners for mastectomy patients, and washable nursing pads.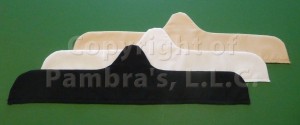 The only thing I do want to stress is that it is very important before even using something such as this, to make sure you have a properly fitted bra. Go get professionally measured and if you have to (which I never wanted to) spend some money on a good bra! Your breasts will appreciate it later in life!!
Cost: $15.99 average for a pack of 3
Available to purchase:
Pambras Online Retailers
Recommendation: If you are an active woman or a larger busted woman these are a good investment. They will make your life just a little bit more comfortable!
Facebook:
Pambras
Twitter: @Pambras3